With Every single RSPS, and there are certainly a lot out there! You can not expect everything to be running smoothly all the time, situations may arise whether it's on purpose or accidental, or in some cases is the user's fault. 
I am talking about Hacking and/or Rollbacks.
Here will be a small fairly detailed guide on keeping your account secure!
---
Passwords from previous servers
This one is a given, simply don't use passwords from other server you've been online, especially if you are using the same name. 
A very good quote is "DON'T USE A PASSWORD THAT YOU USED ON ANOTHER SERVER, THIS IS VERY VERY STUPID" Just don't do it.
Change your password regularly
Pretty straight forward, I recommend that you change your password every 2-3 weeks more or less. I've been doing this since i joined my first private server (I also did this when i played Runescape).
---
Always set a Bank pin and set your other Security settings, you can do this at the PkOwnage Guard located at Home (In Edgeville Bank)
You can set up a Bank pin & other Account security options.
Click on 'Bank-pin Management'
Don't use easy codes like 1234, 4321, 0001. 
Use a number that's easy to remember but not easily guessed.
Please also be sure to NOT use pins that you have used on other servers.
---
For setting your account security settings you click on 'Set Security details'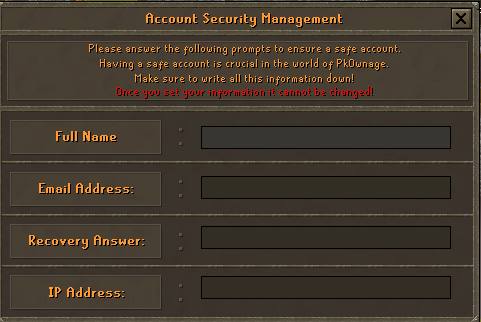 Fill this in and be sure to remember this to ensure any problems you may run into with your account will be covered with this verification.
You never know if a major rollback may happen and if the owners are unable to restore it, the only way to get back your items is proof you had it.
If you are worried, try to take a screenshot update around every five (5) days. 
This helps a lot with hacking as Administrators could check what is missing from your bank by checking things for you and may just may save your lost items.
---
There are countless email websites out there, if you're joining a server make a temporary one or one to use for servers. Do NOT use emails that you may have use on other runescape private servers or even own personal emails as there are contained in a database that may be leaked at any time. Making an email takes like 2 minutes out of your day, 2 minutes of your day could save your account in the long run.
Some quick Email providers:
Gmail




Mail.com




Yahoo




Outlook/Microsoft.



---
If you plan on playing multiple servers (for example if you're a PKer), Having Sandbox available to you may come in handy. You can't trust all RSPS clients, even if they are popular, take the extra caution of running it through Sandboxie.
A sandbox, in computer security, is a security mechanism in which a separate, restricted environment is created and in which certain functions are prohibited. A sandbox is often used when untested code or untrusted programs from third-party sources are being used.
---
I like the phrase, "

you are only as weak as your wea

kest link"

when it comes to Technology and Computers. 
Anti Virus software is important to keep up to date to keep your browsing safe and happy.
Having an up-to-date Anti-virus program is good, this includes but is not limited to:
Avast




AVG




Malware-bytes




McAfee




Norton



If you are not experienced enough with Computers to use Sandbox then make sure you are using any of the above anti-virus program to do regular scans of your computer and this should keep you safe, but you could always try to learn something new!
---
Another small thing to note is that Staff will
NEVER
ask you for your password. If you see players impersonating staff, please be sure to report them.
Best Regards,
I Dds You
---